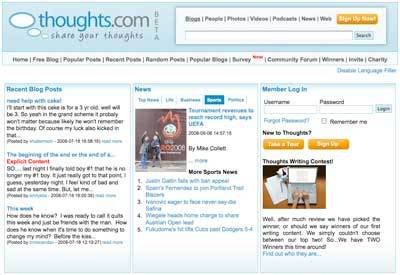 Today, blog is a lifestyle. Everybody should have it. And, I want to introduce the another free blog service provider: Thoughts.com. Yes, like another one, you can blog with this site. But, it is not just a blog provider. It also allows you to upload your photos, and then share it with your family and friends.
Do you feel that still photos are not enough? Calm down, you also can upload videos! Great! Now what? you can share your experience with the world. Yayaya, you also can limit it just for you friends or family only. It's up to you.
Bored with traditional blogs, you may start to podcasting. You may enjoy to be a broadcaster without having to be a real radio broadcaster
Thoughts.com is more than blog service provider. It's also a social community. Yes, your blog is dying without social life. Interaction between you and the visitors is can help to improve your blog, even "building" your blog. You and "the community" can share the post, photos, videos or even podcast. The another thing about the social, it must be a chat. You can chat with another member, just to say hi, or for a mindshare.
Another interesting point, (you must read carefully
), every year Thoughts.com give a free vacation for the top contributors!
If you're looking for a Free Blog Service Provider, you should try Thoughts.com unless you still wanna use traditional blog service.